Bookmarks
With these custom-printed bookmarks, I am exploring another medium to enjoy and share my photographs.
Photos are part of our everyday life, and yet they are so ephemeral. This series of printed bookmarks allows me to give them more life and put them to use.
These 2 series cover my recent travels in the south of Europe where I got the chance to explore colored photography and continue Black&White street photography.
I tried to give each set a good balance and choose photos that are peaceful, playful, or dreamy.
Framed Prints - South Korea series
A series of photographs from Nima IZADI, taken on his trip to South Korea in 2019.
2019 was the year I took 3 months off and started traveling in South Korea and Japan camera in hand. I have selected 5 photos from the beginning of my trip to South Korea. They are the beginning of my journey into Street Photography and they reflect the style I developed these past years.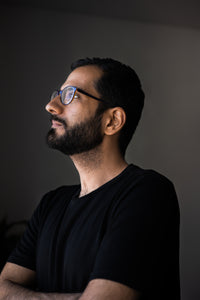 My name is Nima IZADI and I do street photography. I like traveling, I like photography and I like people. Street photography is, for me, the best combination of these 3 things. I put my creativity at work while capturing candid moments of everyday life.
Why do I sell prints?
By purchasing a print, you will support my work as a street photographer. I carefully selected some of my favorite street photos and put them for sale. Prints are limited to 50 copies only.
You can also follow me on Instagram and send me kind words to show your support. It will also help me keep up the work and will be very appreciated.
If you want to contribute financially, you can also buy me a coffee to help me stay energized on my street walks.
See prints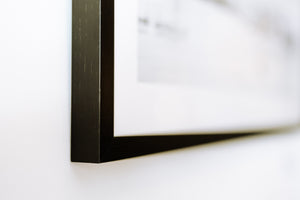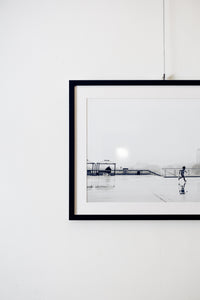 High-Quality Prints
Quality is something I will not negotiate. Each print is gallery quality so it will last in time. Every print is already framed and ready to hang.
Print
The paper used for the print is an Ilford B&N glossy 190 g/m² paper. It comes with a beveled white passe-partout, which protects and shields against dust behind an Anti-UV and Anti-Reflection glass plate. The passe-partout has a wraparound border of 5cm and is made from Canson Conservation paper.
Glass protection
The glass is an Anti-UV and Anti-Reflection Mirogard glass. This glass will guarantee the photo to last in time by preventing the UV to degrade the photo over time as well as preventing reflections.
Frame
The frame is made from black oak wood and measures 73,7 x 53,7 cm. The photo inside the passe-partout is 40 × 60 cm. The frame profile is 20 mm in width and 40 mm in depth.
Production and shipping
Each print is produced once the order has been made. It will take 2-3 weeks to arrive at your door depending on where you are in the world.